AireSpring Appoints Barry Friedman as Director of Product Management
New Role for Ex-Citrix and EarthLink Product Management Veteran Signals More Growth for Company
LOS ANGELES, CA – September 26, 2018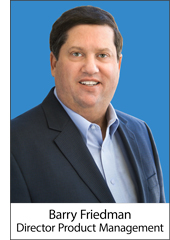 – AireSpring, AireSpring, the award-winning provider of cloud communications and managed connectivity solutions, is pleased to announce that Barry Friedman has been tapped to fill the position of Director of Product Management.
A 25-year veteran of telecom and SaaS software product management, Mr. Friedman will lead a team of product development professionals to accelerate the company's development process and reinforce the highest quality product outcomes.
Mr. Friedman began working in telecom with Satellite Business Systems (SBS), a subsidiary of IBM, later acquired by MCI. He became MCI's product manager for their High-Speed Digital Data product. After leaving MCI, he then spent 12 years in various director level positions at EarthLink, including strategic planning, business development and voice services. He moved on to work at Citrix Online, where he served as Principal Product Line Manager for the GoToMeeting product line, including desktop and mobile applications, global localization and web portal functionality. He then served as Director of Product Management for both AnyMeeting and ADP, where he worked closely with UX and UI designers to ensure that the company's Periodic Tax Compliance products met the needs of clients. In addition, he served as Director of Product and Project Management at Nations Info Corp, implementing a customer-centric approach to new product development before joining AireSpring. His experience with directing software development teams, as well as engaging in customer-facing interactions, will reinforce AireSpring's commitment to careful, strategic growth, in line with their emphasis on keeping the customer's needs top-of-mind at every level of the company.
"Mr. Friedman's dynamic commitment to the highest standards of product management and his deep experience with leading edge enterprises, both within and outside of telecom, make him a great fit for AireSpring," stated David Lonstein, AireSpring Executive Vice President of Product Management. "His role will be invaluable in supporting our development of new products and implementing processes needed to assure top quality customer satisfaction as we continue our growth trajectory."
About AireSpring

Founded in 2001, AireSpring is an award-winning provider of cloud communications and Managed Connectivity solutions, serving thousands of businesses nationwide. AireSpring provides fully managed and connected end-to-end, next-generation solutions for multi-location enterprise customers. Services include Multi-Cloud Connect, SD-WAN, AirePBX™ Cloud Business Phone Systems, AireContact® Cloud Contact Center, SIP Trunking, MPLS, Disaster Recovery, Managed Security, and Business Internet. AireSpring's solutions are offered through a diversified network of channel partners that includes distributors, master agents, managed service providers (MSPs), and value added resellers (VARs). AireSpring's services are delivered over its revolutionary nationwide MPLS Mesh network, providing customers a fully integrated, end-to-end solution from a single vendor.
AireSpring has received numerous industry awards for "Next-Gen Solution Provider," "Top Midmarket Vendor Executive," "Product of the Year," "Best Telecom Deal," "Best in Show," and "Top Channel Program." AireSpring is privately held, diversified, debt-free, and renowned in the industry for delivering a broad range of innovative cloud communications and connectivity solutions at competitive rates. To find product information or to become an AireSpring partner or agent, please visit www.airespring.com or contact us at (888) 389-2899.
Contact:
Ellen Cahill
Senior VP Marketing
AireSpring
818-738-1913
ellen.cahill@airespring.com