AireSpring Awarded 2018 Internet Telephony SD-WAN Product of the Year Award
AireSpring Platinum SD-WAN Recognized for Exceptional Innovation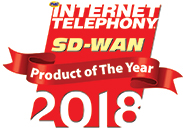 LOS ANGELES, CA — August 23, 2018 – AireSpring, a leading provider of cloud communications and managed connectivity solutions, announced today that TMC, a global, integrated media company, has awarded AireSpring Platinum SD-WAN a 2018 INTERNET TELEPHONY SD-WAN Product of the Year Award. The INTERNET TELEPHONY SD-WAN Product of the Year Award is bestowed upon companies that demonstrate the innovation, vision, and execution to deliver software-based networking tools to support different and unique communities of interest.
AireSpring, widely recognized for its managed services and custom engineered network with end-to-end quality of service (QoS), developed its Platinum SD-WAN solution to deliver the broadest possible flexibility and adaptability to each user's customized needs.
"We have invested significant resources to ensure that our Platinum SD-WAN offering is a market leader both in terms of technology and implementation," stated Daniel Lonstein, president and chief revenue officer (CRO) of AireSpring. "Our world class team has the experience and expertise to ensure successful outcomes," added Lonstein "This award validates our commitment and investment in SD-WAN technology and this exploding market which has transformed networks faster than anything we have seen in recent years."
AireSpring identifies these key areas that help its Platinum SD-WAN achieve its award-winning level of performance:
Free Read and Write Access to SD-WAN Cloud-based Portal — AireSpring offers free access to a sophisticated SD-WAN web-based portal that gives all customers deep monitoring visibility into their network and configuration level capabilities.
Flex Licensing – AireSpring's licensing package does not require customers to license more than what is needed for in tunnel traffic.
3rd Party Vendor Support – AireSpring will monitor 24×7 and proactively open repair tickets on behalf of customers for non-AireSpring internet circuits.
Auto-Prioritization of voice, video and cloud applications assures Quality of Service (QoS).
SD-WAN integration – The introduction of SD-WAN into AireSpring's network core further enhances its flexibility and capability, providing benefits such as single link forward error correction, sub-second failovers and bonded bandwidth for 2+ circuits. AireSpring's SD-WAN can improve, bond together, and failover any number of private/public links. This includes popular choices such as MPLS, internet, P2P T1/T3, fiber, broadband, satellite, LTE and others. Customers can mix and match carriers, transports and technologies as part of AireSpring's unified architecture.
"Congratulations to AireSpring for receiving a 2018 INTERNET TELEPHONY SD-WAN Product of the Year Award," said Rich Tehrani, CEO, TMC. "AireSpring Platinum SD-WAN has demonstrated true innovation and is leading the way for Software Defined Wide Area Networking. I look forward to continued excellence from AireSpring in 2018 and beyond."
About AireSpring
Founded in 2001, AireSpring is an award-winning provider of cloud communications and managed connectivity solutions serving thousands of businesses nationwide.  AireSpring provides fully managed and connected end-to-end, next-generation solutions for multi-location enterprise customers, including SD-WAN, AirePBX™ Cloud Business Phone System, SIP Trunking, MPLS, Disaster Recovery, Managed Security, and Business Internet. AireSpring's solutions are offered through a diversified network of channel partners that includes distributors, master agents, managed service providers (MSPs), and value added resellers (VARs). AireSpring's services are delivered over its revolutionary nationwide MPLS Mesh network, providing customers a fully integrated, end-to-end solution from a single vendor.
AireSpring has received numerous industry awards for "Next-Gen Solution Provider," "Top Midmarket Vendor Executive," "Product of the Year," "Best Telecom Deal," "Best in Show," and "Top Channel Program."  AireSpring is privately held, diversified, debt-free, and renowned in the industry for delivering a broad range of innovative cloud communications and connectivity solutions at competitive rates. To find product information or to become an AireSpring partner or agent, please visit www.airespring.com or contact us at 888-389-2899.
About INTERNET TELEPHONY magazine
INTERNET TELEPHONY magazine has been the IP Communications Authority since 1998™. Beginning with the first issue in February of 1998, INTERNET TELEPHONY has been providing unbiased views of the complicated converged communications space.  INTERNET TELEPHONY offers rich content from solutions-focused editorial content to reviews on products and services from TMC Labs.  For more information, please visit www.itmag.com.
 For more information about TMC, visit www.tmcnet.com.
AireSpring Contact
Ellen Cahill
Senior VP Marketing
ellen.cahill@airespring.com
(818) 786-8990 x374
TMC Contact                                                                         
Stephanie Thompson