AIRESPRING NAMED WINNER OF CHANNEL PARTNERS EVOLUTION INFLUENCER AWARD 2017
AireSpring's Achievement Recognized as Channel Solutions Provider
LOS ANGELES, CA —October 12, 2017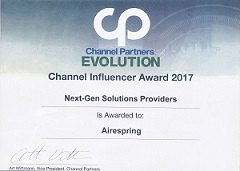 AireSpring, a leading provider of cloud communications and managed connectivity solutions, announced today that it was named winner of the Channel Influencer Next-Gen Solution Providers Award for 2017. Channel Partners, the news and analysis source for the communications industry's indirect sales channels, announced the winners at Channel Partners Evolution in Austin, TX on September 27, 2017.
The Next-Gen Solutions Influencer Award recognizes AireSpring for its exceptional influence on the partner channel. AireSpring is widely known for being 100% channel-focused, and for the outstanding value it provides to its channel partners, including the industry-leading quoting tool, QuoteSpring™ for instant quotes online, along with a team of expert channel managers and solutions engineers. The company also provides some of the highest SPIFFs and commissions in the industry. This award joins the growing collection of accolades the company has received from industry organizations , most recently for its AirePBX UCaaS product (Communications Solutions Product of the Year 2017), and for Ron McNab, AireSpring's Senior Vice President of Channel Sales (for Top Midmarket Vendor Executive 2017).
"We are thankful to be honored with this award which validates AireSpring's strategic commitment to the partner Channel," said AireSpring COO, Daniel Lonstein. "We look forward to continuing to exchange ideas, share new product developments and grow sales together with an expanding family of forward-thinking channel partners. We work hard to maintain the AireSpring Advantage, designed to help our partners gain opportunities with award-winning products, including our fully managed, nationwide, geo-redundant MPLS MESH multi-vendor network, SD-WAN solutions, free AireNMS 24/7 WAN network monitoring, white glove product installation and premier customer support programs."
About AireSpring
Founded in 2001, AireSpring is an award-winning provider of cloud communications and Managed Connectivity solutions, serving thousands of businesses nationwide.  AireSpring provides fully managed and connected end-to-end, next-generation solutions for multi-location enterprise customers. Services include SD-WAN, AirePBX™ Cloud Business Phone Systems, SIP Trunking, MPLS, Disaster Recovery, Managed Security, and Business Internet. AireSpring's solutions are offered through a diversified network of channel partners that includes distributors, master agents, managed service providers (MSPs), and value added resellers (VARs). AireSpring's services are delivered over its revolutionary nationwide MPLS Mesh network, providing customers a fully integrated, end-to-end solution from a single vendor.
AireSpring has received numerous industry awards for "Next-Gen Solution Provider," "Top Midmarket Vendor Executive," "Product of the Year," "Best Telecom Deal," "Best in Show," and "Top Channel Program." AireSpring is privately held, diversified, debt-free, and renowned in the industry for delivering a broad range of innovative cloud communications and connectivity solutions at competitive rates. To find product information or to become an AireSpring partner or agent, please visit www.airespring.com or contact us at (888) 389-2899.