Hurricane Season is here… is your business ready? Every business owner has thought about what might happen to their business during a natural disaster, but how many of them actually make disaster recovery plans? While it's easy to cross your fingers and hope it doesn't happen, most businesses are incredibly vulnerable. Many are seriously crippled from even a minor outage, and 40% never reopen. A cloud disaster recovery plan can make all the difference.
It only takes one.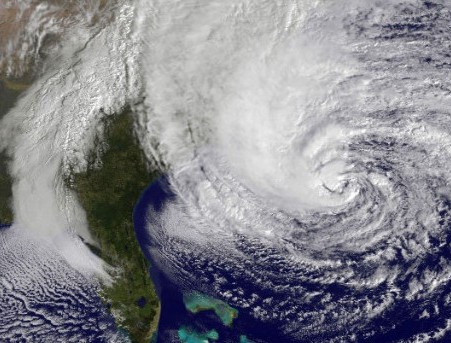 For many businesses, that catastrophe came in 2012. Hurricane Sandy slammed into the east coast, and between the floodwall and the 90 mile an hour winds, caused an enormous amount of damage. In addition to the death toll, there was devastating damage to infrastructure in New York and New Jersey: streets, tunnels, and subway lines were flooded, and power was down in many areas of the city, leaving residents without working lights or phones. IHS Global Insight put the estimated loss of business activity at $25 billion dollars. It is no exaggeration to say that every business was effected. Those with traditional "on premise" phone systems fared terribly, being totally reliant on their now damaged infrastructure. Of those, the businesses without disaster recovery solutions and updated contingency planning suffered most of all.
The resiliency of the cloud.
In contrast, businesses with cloud-based communications systems fared much better. Large-scale disasters such as Sandy give carriers the opportunity to truly see the efficiency of their systems – can they really provide the services promised to their customers?
As usual, AireSpring's MPLS network functioned beautifully, smoothly re-routing traffic away from the damaged New York-based data centers along our meshed, geo-redundant MPLS network. In many cases, customers were surprised to find that their phones and internet continued to work, even when the building itself did not have power. The built-in resiliency of cloud-based systems is not to be underestimated: AireSpring's MPLS traffic engineering ensures that data will automatically re-route over other available connections, "failing over" in case of a disaster. For customers and clients, this change is imperceptible, allowing for business continuity management that works even in the most extreme situations.
Just one advantage of many.
The distributed nature of cloud-based unified communications provides a natural advantage for disaster recovery and contingency planning, but it's just one of many reasons businesses are adopting unified communications systems. Between future proofing, controlling operating expenditures, and increased interoperability, unified communications systems are becoming an integral piece in helping businesses achieve their communications goals.
To learn more about how AireSpring's geo-redundant MPLS Mesh network enables unified communications with built-in business continuity management, visit us online at https://www.airespring.com/product/managed-failover/.