Pre-configured, installed, and tested by professional technicians, AireSpring's award winning AirePBX™ Cloud Phone System delivers professional communications capabilities with enterprise class features, all while significantly reducing your communication costs. AirePBX is more than just another cloud phone system; it provides true Unified Communications (UCaaS) with powerful advanced features that let you communicate and collaborate from anywhere.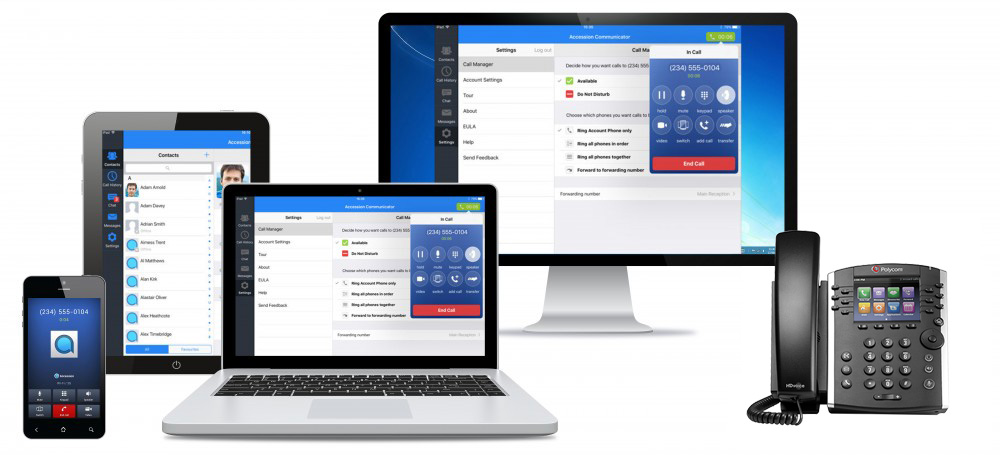 ---
End-to-End Quality of Service
While many cloud phone solutions leave you with no choice but to rely on the public internet, AirePBX offers fully managed connectivity over AireSpring's owned and operated nationwide advanced IP network. Receive consistent voice quality with end-to-end Quality of Service (QoS) and 24/7 network monitoring.
Professional On-Site Installation
AireSpring pre-configures your equipment and dispatches a trained technician to perform professional on-site installation and testing of IP phones, routers and switches to ensure that your communications system works perfectly.
Work From Anywhere
With AirePBX, you can work from your desk phone, smartphone, tablet, desktop computer, or laptop. Seamlessly switch between your office and mobile devices during live calls for ultimate unrestricted mobility.
24/7/365 Network Monitoring
With the AirePBX Cloud Phone System with managed connectivity, our Network Operations Team (NOC) monitors and manages your traffic 24 hours a day, 365 days a year. We work to ensure that any potential issues on your network are pre-emptively identified and addressed before they affect your communications.
We offer two product packages designed for distinct
business needs, AirePBX Business and AirePBX Enterprise.
AirePBX Business
AirePBX Business contains everything you need in a hosted PBX solution, providing your office with consistent, high-quality communications at a competitive price.
AirePBX Enterprise
AirePBX Enterprise is built for businesses where employees need to be able to make and receive calls from anywhere, anytime. The Accession Mobile client allows for mobile productivity and a dynamic communications environment.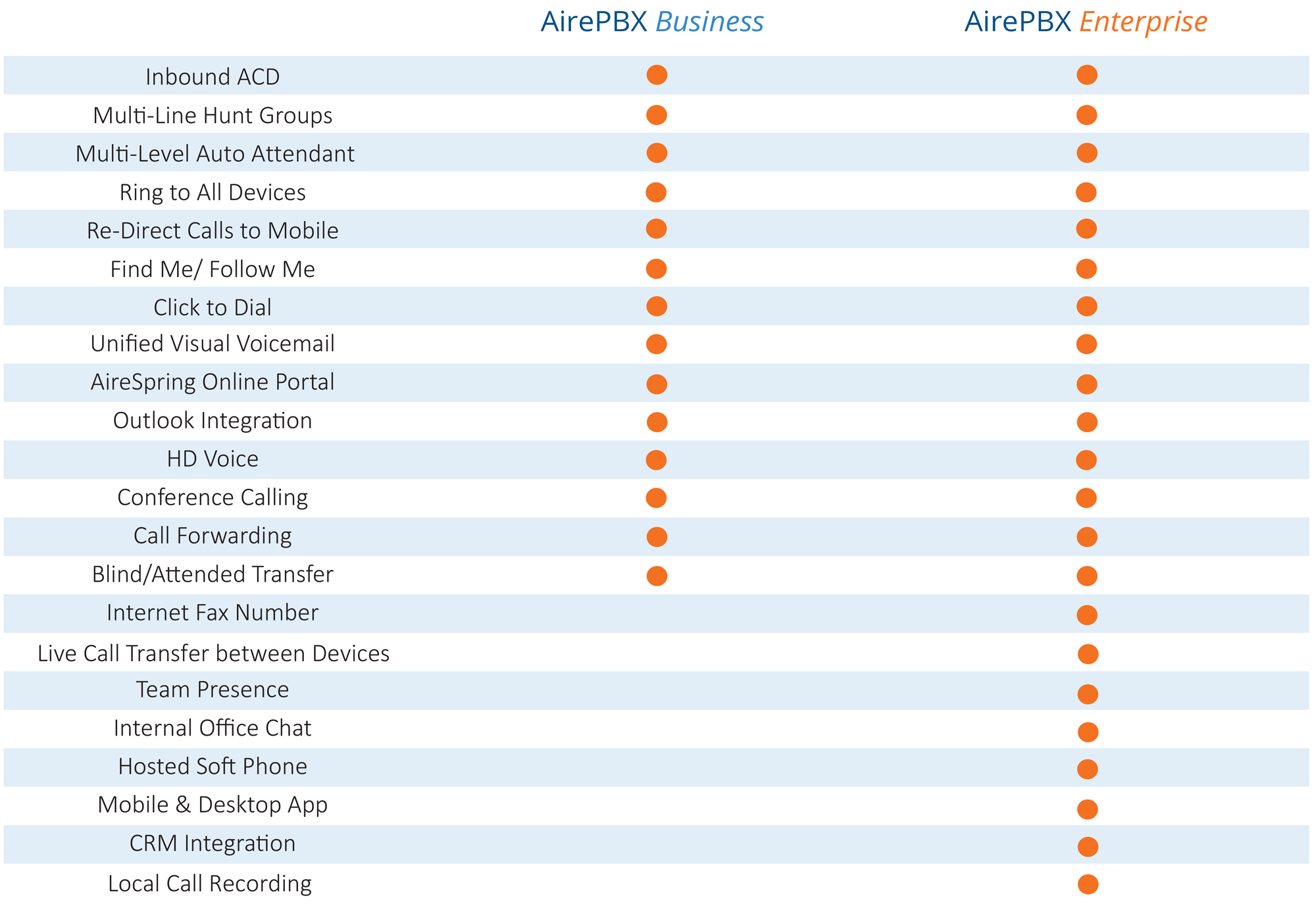 AirePBX Call Center
Strengthen your support and sales departments with the
key features of an inbound call center.
Real Time Wallboard.

Display real-time statistics on any large format monitor or TV.

Monitor, Whisper, Barge.

Proactive supervisor monitoring and engagement of agent calls.

MLHGs and Business Groups.

Expanded Multi Line Hunt Group (MLHG) functionality makes call routing easy.

Agent Dashboard.

View calls in queue, wait time, and call details including originating queue.

Agent Activity Codes.

Supervisors can manage and report on agent activities.

Call Disposition Codes.

Display real-time statistics on any large format monitor or TV.

Real Time Wallboard.

Identify and report on individual calls, labels are viewable by agents and supervisors.

Ad-Hoc & Scheduled Reports.

Automatically generated reports lets managers and executives make data-driven decisions.
Reception Portal
Make your receptionist unstoppable with the
AirePBX Reception Portal.
Receptionist Portal eliminates the hassle of using a physical sidecar to transfer, route, and organize calls in the office. Using a simple, click and drag interface you can assign calls to agents or specific queues. From a single screen, the receptionist gains a bird's eye view of all office phone activity. The AirePBX Receptionist portal is also fully SIP compliant and will work with any softswitch, IP PBX or SIP proxy.
Receptionist Dashboard.

Use the receptionist dashboard to route incoming calls and monitor calling activity.

Drag and Drop Calls.

Transfer calls to specific agents simply by dragging and dropping.

Multi-line Hunt Groups.

Use your existing AirePBX MLHGs to route incoming calls to specific queues or business groups.

Instant Messaging.

Instant messaging capabilities allow for seamless attended transfers to agents.

All On One Screen.

A single screen shows everything – incoming, outgoing, and live phone calls.
Further enhance your communications potential with additional,
optional features for your AirePBX solution.
Option Features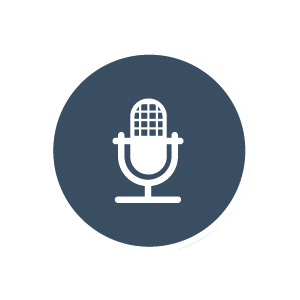 Automatic Call Recording
Automatically record and save all of your calls. Recordings can be easily reviewed and exported from our simple online portal.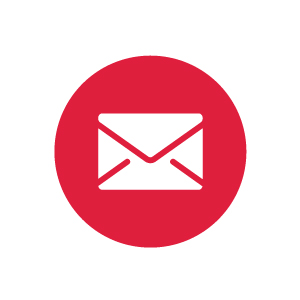 AireTXT
Send and receive SMS messages using your PBX number or short codes and respond using your email account.
Customers who choose AireSpring's Managed Connectivity option
enjoy the benefits of the AireSpring Advantage™
White Glove Service
Eliminate Finger Pointing Between Providers
Largest Available Coverage
Reliable and Diversified Network
Free Advanced IP Desk Phones
Escalation List Up to Our CEO