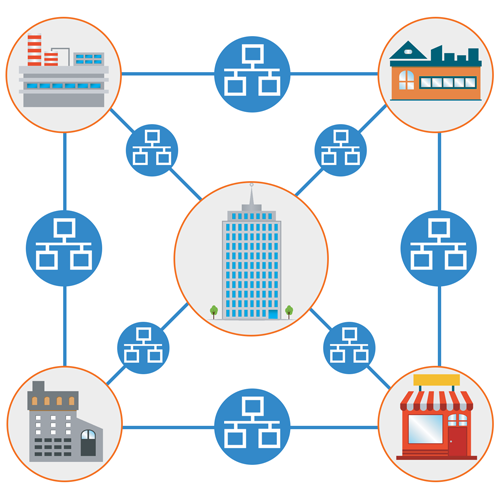 Ethernet Private Networking
For customers who are ready to take control of their network and
get the most value for their money, Ethernet Private Networking
from AireSpring is the answer. AireSpring provides a dedicated low latency data link connection based on physical addressing, ensuring
fundamental network security and allowing customers to implement
custom Quality of Service (QoS) settings over their own private
networks. Ethernet Private Networking is configured on a case-bycase
basis, providing personalized flexibility and scalability, all while
maximizing bandwidth and savings.
FEATURES
Local Area Network to Wide Area Network Connectivity: Ethernet Private Networking smoothly integrates with existing LAN networks, allowing in-house IT staff to seamlessly link your customer's locations together.
Low Latency: High capacity network ensures that the real-time transmission of business-critical applications, backed by a comprehensive Service Level Agreement.
Versatile and Flexible: Ethernet Private Networking is ideally suited to carry Internet Protocol-based applications and supports Hybrid Networking, giving your customers easy access to AireSpring's award-winning MPLS Network and Cloud Communications Suite.
Customizable Setups: Point to Point, Point to Multipoint, or Multipoint configurations enable customers to connect their locations over a secure LAN, or route virtual private lines from remote locations to a single hub.
Reliability and Continuity: Ethernet Private Networking supports a full range of business continuity and failover options, with the flexibility to protect your customers.
For more information, please contact AireSpring at 888-389-2899 or email sales@airespring.com
Top Benefits of the AireSpring Advantage
Fully Managed Network with QoS
Eliminate Finger Pointing Between Providers
Largest Available Coverage
On-Premises Enterprise-Grade Router/Gateway Included FREE
Reliable and Diversified Network
Free 24/7 Proactive WAN Network Monitoring Service
Personalized Service
Escalation List Up to Our CEO