Fortinet FortiPortal
In today's increasingly complex and costly world of IT Operations, enterprises are looking for a ready-made, self-service portal solution that is easy-to-navigate from any location, enabling their IT departments to avoid building their own costly portals. Designed for enterprises, education institutions, and government customers, FortiPortal is a user-friendly solution that enables IT departments to create and manage their own secure, private portal.
FortiPortal provides cloud-based security policy management, offering a variety of options and management capabilities without the need for on-site IT infrastructure. FortiPortal's service provider portal allows customers to assign firewall configurations, monitor tasks of users globally, and integrate Fortinet's cybersecurity management products. The portal includes an audit view and customizable dashboard containing explorable widgets, so IT teams can see usage, traffic, and other important metrics.

User Dashboard shows graphical user interface (GUI) options. Users can view data such as Top Threats and Top Countries in real-time.
FortiPortal's architecture provides end-users with the ability to work from anywhere (WFA) with network management capabilities and a variety of customizable options. The self-service portal enables users to access their secure SD-WAN applications and includes out-of-the-box integration with FortiManager, FortiAnalyzer, and FortiGate, simplifying device management, configuration and analytics with real-time visibility and reporting for traffic, application, attacks, and web usage. FortiPortal's graphical user interface makes device and firmware updates, and policy modifications easy. FortiPortal provides easy-to-understand reports for non-network engineers such as the IT Team, CFO, and other line of business managers.
In response to the need for offsite, easy-to-deploy end-user portals, FortiPortal delivers an optimized solution with real-time analytics and deep insights, making it easy for employees to work from anywhere seamlessly and securely.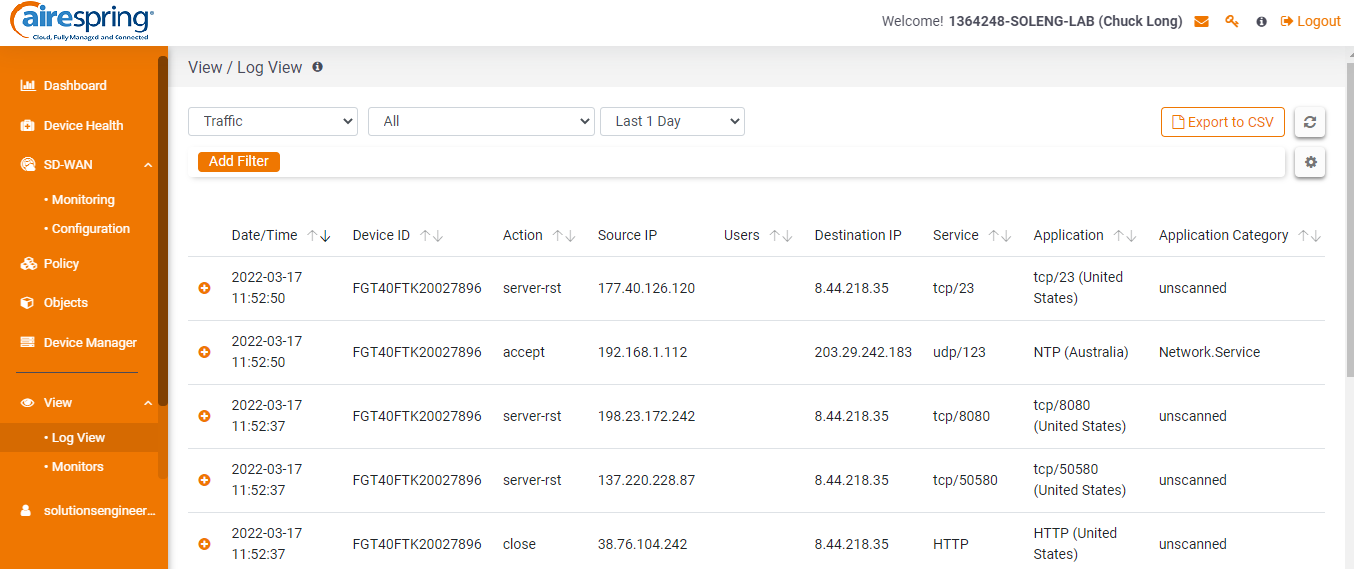 Log View displays logs of customer traffic going in and out of FortiGate, down to the packet level, in real-time, with the ability to export.
Key features of the FortiPortal include:
Powerful Dashboard – Provides a comprehensive picture of network traffic and security posture, including explorable widgets like Top Countries, Top Threats, Top Sources, Top Destinations, Top Applications, and Policy Hits.
Device Manager – Enables users to easily configure VPN IPsec, routers and SD-WAN. Authentication servers support Lightweight Directory Access Protocol (LDAP) with password reset support, Remote Authentication Dial-In User Service (RADIUS), Terminal Access Controller Access-Control System (TACACS), and local authentication. Users can also view and manage their Dynamic Host Configuration Protocol (DHCP) servers.
View Page – Provides visibility and insight into device and network configurations and includes a Monitors view as well as Log View. It displays security and event information by application, source or destination, with filters and controls that allow for easy navigation.
Policies and Objects – Allows users to manage and configure devices managed by FortiManager. This includes basic network settings to connect the device to the corporate network, antivirus definitions, intrusion protection signatures, access rules, and managing and updating firmware for the devices.
Audits – The audit tab displays a log of user activity by date, and it can be searched by level, user, type, IP or message description, and then exported to a CSV file.
Reports – Administrators can see, monitor and download reports, making it easy to track activity in real-time.