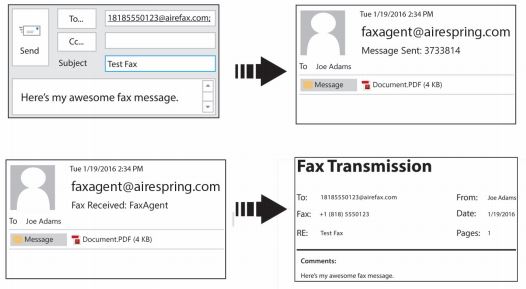 AireFax
Next-Generation Dedicated Internet Faxing
AireSpring brings faxing into the 21st century, with AireFAX™, our new SMTP enabled fax to email service. Using the same messaging protocol as an ordinary email, AireFAX delivers your faxes digitally. You can send and receive faxes from your email, for the maximum in ease and flexibility. Dedicated AireFAX lines are now available as a stand-alone product or as an add-on to any of our services.
Features
Simplified, and Easy to Use: No need to wrestle with outdated technology, AireSpring makes Faxing easier than ever.
Email Integration: Send and receive faxes using your email account. Faxes are automatically converted to PDF format, and can be easily forwarded.
Online Portal: Manage, view, and download your faxes from our easy to use online resource center. Free with our dedicated AireFAX lines.
Automatic Forwarding: Set up email addresses to automatically receive forwarded copies of incoming faxes, so you'll always have a backup copy.
Top Benefits of the AireSpring Advantage
Fully Managed Network with QoS
Eliminate Finger Pointing Between Providers
Largest Available Coverage
On-Premises Enterprise-Grade Router/Gateway Included FREE
Reliable and Diversified Network
Free 24/7 Proactive WAN Network Monitoring Service
Personalized Service
Escalation List Up to Our CEO