Optimize Your Connectivity with a Network-Based, Software-Defined Wide Area Network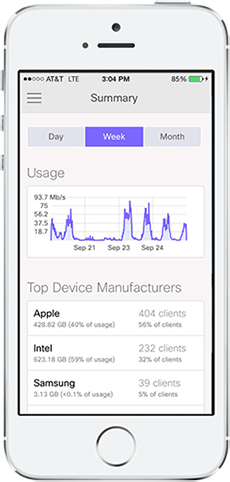 AireSpring Cisco® Meraki® SD-WAN with Firewall is an economical solution that provides standard SD-WAN functionality, with an integrated next-generation firewall to ensure your business is protected from external threats. It delivers a fully managed, easy-to-deploy solution, including complete design engineering, dedicated project management and white-glove implementation and support from our team of technology experts. This innovative and customizable package helps companies of any size overcome challenges to success in today's online environment, leveraging advanced SD-WAN features and functionality.
Lower operational costs and improved resource usage for multi-site deployments allow network administrators to use bandwidth more efficiently, ensuring:
Optimized bandwidth using low-cost public broadband or internet
Highest level of performance for critical applications
Industry-leading unified threat management (UTM)
Consistent application security and data privacy protection
Improved automation and self-provisioning
Fast deployment, operational efficiency and reduced IT complexity work to optimize your communications networks, together with AireSpring's nationwide, end-to-end managed connectivity and professional services.
Our Network Solutions Engineering team partners with you to determine the best SD-WAN package for your business. Unlike many one-size-fits-all solutions on the market today, you never pay for more than what you need. We also ensure that your custom policies are accommodated to help reduce potential gaps in security. Each SD-WAN appliance arrives on-premises preconfigured to meet your unique specifications, eliminating the need for expert IT staff to install, configure and manage the device.
SD-WAN can enhance your internet connection by using low-cost, public broadband or internet connectivity to expand your bandwidth with active/active routing.
Accommodate and respond to rapid business growth by quickly deploying new branches or connecting remote locations to your central headquarters without the longer installation times that can come with traditional WAN solutions such as MPLS.
SD-WAN's centralized, cloud-based software reduces the cost of provisioning, maintenance and local network staff, and simplifies branch-office networking.
SD-WAN offers the ease, flexibility, and control of centralized configuration. Gain access to your entire WAN, see network performance, and increase network visibility with centralized WAN management
AireSpring Cisco Meraki SD-WAN with Firewall
100% Cloud Managed Security & SD-WAN for a complete connectivity and threat management solution.
The AireSpring Network Operations Center (NOC).
Get 24/7/365 real-time monitoring using AireNMS. Benefit from our proactive ticket initiation, management and resolution by the AireSpring NOC in the event of a network alert.
Transport independence
Apply bandwidth, routing and security policies across a variety of media (internet, 3G or 4G LTE) with a single consistent, intuitive workflow.
Application optimization
Layer 7 traffic shaping and application prioritization optimize the traffic for mission-critical applications and user experience.
Intelligent path control
Dynamic policy and performance based path selection with automatic load balancing for maximum network reliability and performance.
Secure connectivity
Integrated Cisco Security threat defense technologies for direct internet access combined with IPsec VPN to ensure secure communication with cloud applications, remote offices or datacenters.
KEY FEATURES & FUNCTIONALITIES
BENEFITS
AireSpring White Glove SD-WAN Professional Services

Includes implementation design and engineering. We will design (pre-sales), deploy (provisioning) and support (customer service/NOC) your SD-WAN solution at no additional cost.
Plus, we provide branch deployment support via pre-configuration of SD-WAN edge boxes.

Free Network Monitoring 24/7/365.

24/7/365 real-time monitoring by the AireSpring Network Operations Center (NOC), using AireNMS.
Proactive ticket initiation, management and resolution by AireSpring NOC in the event of a network alert.

Free 3rd Party Circuit Support

AireSpring will proactively open repair tickets on behalf of customers for their nonAireSpring, internet-only circuits. Not offered by many vendors. Only available at a premium cost by the few that do.

Free Read and Write Access

Free Read and Write Access to Cisco-Meraki Dashboard provided (notification required when ordered).

WAN Failover

Every Appliance supports multiple WAN uplinks with seamless, automatic failover for protection against connection outages.
Optional HA warm spare failover ensures the integrity of service at the appliance level. In the event an appliance goes offline, a secondary device will automatically take over.

3G/4G Failover

Traffic will be redirected to a 3G/4G interface in the event of a connectivity failure.
Requires existing circuit or new 3G/4G circuit (sold separately)

Advanced Firewall and Unified Threat Management (UTM)

Next-Generation Managed Firewall with UTM features such as Intrusion Detection & Prevention, URL Filtering, Anti-virus, Anti-Phishing and Advanced Malware Protection.
Comprehensive, multi-layered security that safeguards your network and data assets against viruses, malware and emerging cyber threats.
Control outbound and inter-network traffic using firewall rules.

Maximum WAN Links

2 up links supported. Traffic distribution over multiple pathways (internet, cellular), with built-in load balancing and automatic failover capabilities.

IPsec Virtual Private Networking (VPN)

Provides the ability to quickly interconnect locations over inexpensive broadband circuits.

Traffic Shaping

Provides the ability to prioritize network traffic so that heavy-use applications or those requiring a significant amount of bandwidth to operate do not impact other users on the network.

Per Flow Load Balancing

Rule-based per flow load balancing. Packets of the same flow go over the same link.
Cisco Meraki SD-WAN with Next Generation Firewall
White Glove Services
AireSpring provides managed network and security services that ensure your traffic is routed correctly and safeguards your network against viruses, malware, and cyber threats. Every AireSpring provided Cisco Meraki SD-WAN appliance includes 24/7 white glove support and basic network and security management.
Our Cisco Meraki SD-WAN with Next Generation Firewall delivers a fully managed, easy-to-deploy networking and security solution, including complete design engineering, dedicated project management and white-glove implementation and support from our team of technology experts.
Feature
Benefit
Basic Firewall Support & Management
Pre-sale analysis and design

Our Solutions Engineers review every SD-WAN order to ensure the network is properly designed based on each customer's specific requirements.

Initial setup and configuration of network and security settings

Your firewall comes pre-configured and is ready to route your traffic and protect your network and company information.

Customers can request read or read / write access to the Cisco Meraki SD-WAN dashboard

For customers with their own IT or security staff, AireSpring can provide read only access to each device or write access for changes to both network and security settings.

24/7 support for network / SD-WAN configuration changes

AireSpring allows you to call our Service Assurance team for changes to your network / SD-WAN settings.

Security/Firewall Management Support
Configure Unified Threat Management (UTM) features

AireSpring will configure each device using standard settings for all UTM services. Customer can call us 24/7 to request changes to the default settings.


Up to 4 calls per month free $150 per call for any additional calls
Top Benefits of the AireSpring Advantage
Fully Managed Network with QoS
Eliminate Finger Pointing Between Providers
Largest Available Coverage
On-Premises Enterprise-Grade Router/Gateway Included FREE
Reliable and Diversified Network
Free 24/7 Proactive WAN Network Monitoring Service
Personalized Service
Escalation List Up to Our CEO