VMware Edge Network Intelligence™
The modern network is experiencing a proliferation of Operational Technology (OT) and Internet-of-Things ( IoT) devices as well as work from anywhere (WFA) connections. Embedded devices that rely on the IT network infrastructure can number in the thousands for many enterprises and have thus both complicated IT Operations and extended the threat landscape. It is challenging for IT Operations teams to keep up with the management of what can be hundreds or thousands of devices and access points while defending their enterprise against security breaches and attacks.VMware Edge Network Intelligence is a highly secure, machine learning (ML) analytics engine, and artificial intelligence IT operations (AIOps) solution developed to identify, monitor, and diagnose problems with devices connected to the enterprise edge. Developed to operate in real-time, ENI ensures that devices are performing optimally, are fully secure, and are self-healing enabled through the LAN together with SD-WAN.
VMware ENI delivers actionable data and deep insight into networks, devices, and applications that operations teams can proactively address and remediate. VMware ENI is designed for businesses of all sizes and provides IT with actionable and automated insights on network health and application delivery. Most organizations lack true visibility and analytics into activities on their network. VMware Edge Network Intelligence helps solve these issues.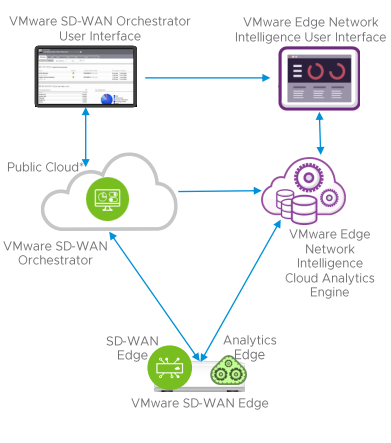 Key Benefits of the VMWare ENI
---
Closes the Visibility Gap
VMware ENI empowers IT teams to measure each user experience for applications, understand their behavior, and establish a baseline for their performance often reducing the need for IT support calls.
Correlates Across the Application Stack
VMware ENI provides application assurance with support for 3,000+ applications built in. ENI is vendor agnostic and applies advanced machine learning to correlate across the application stack, then proactively recommends actions and predicts benefits of changes in the network that could improve performance or improve the user experience.
Facilitates a Self-healing Network
ENI enables an organization to move toward a self-healing network that can automatically remediate issues and policy violations. It establishes a feedback loop, to ensure that actions taken are effective in addressing issues.
Increases Security
VMware ENI ameliorates threats by using high-level encryption and access control technologies and storing data in a secure cloud environment.
Complements VMware SD-WAN™ and VMware SASE™
VMware ENI together with VMware SD-WAN, provides a unified edge and cloud service model, with a single point for managing business policy, configuration, and monitoring.
An example of the reporting capabilities with ENI. (Source: VMware)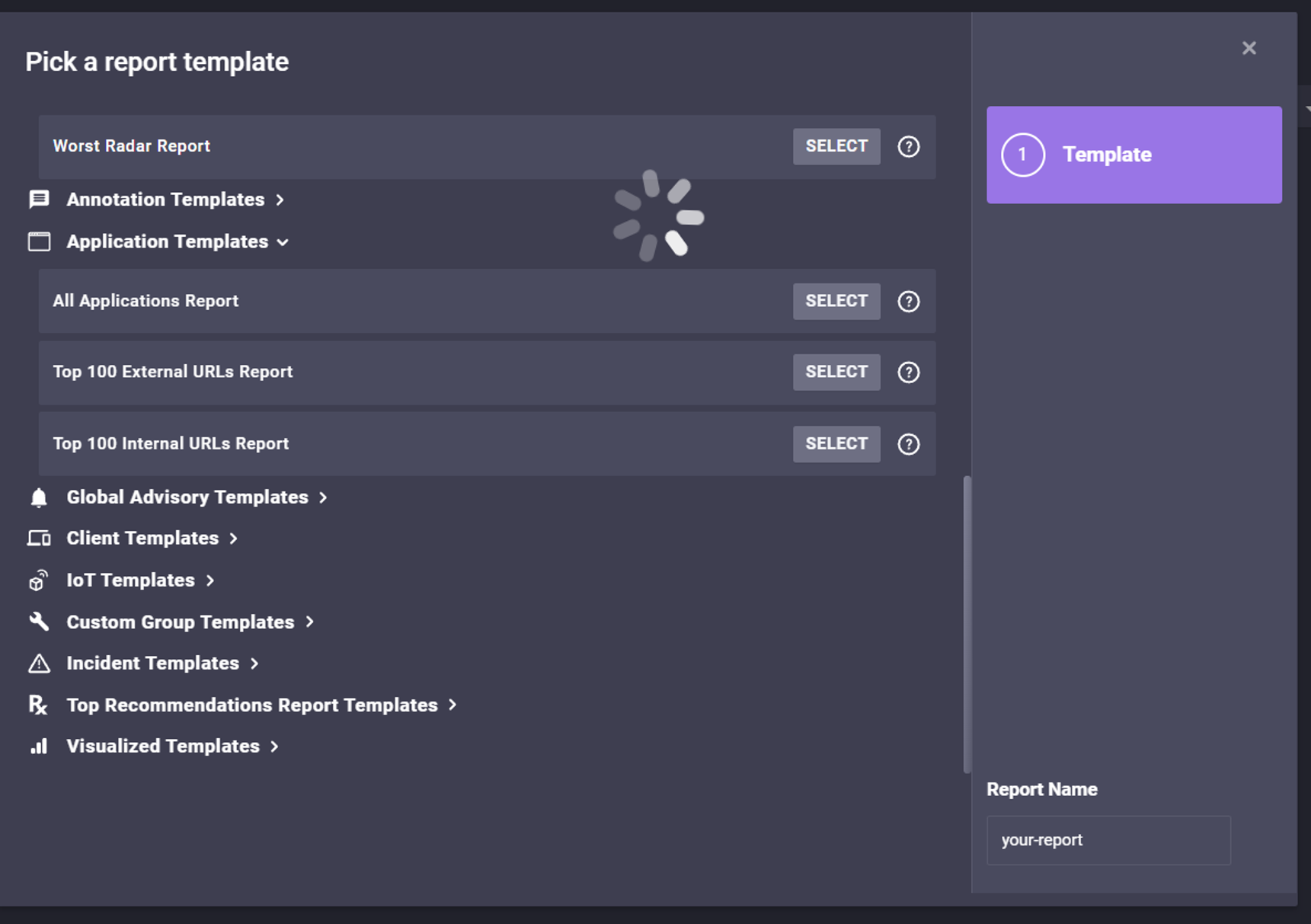 A sample report generated from the top 100 External URLs reveals a wealth of information. (Source: VMware)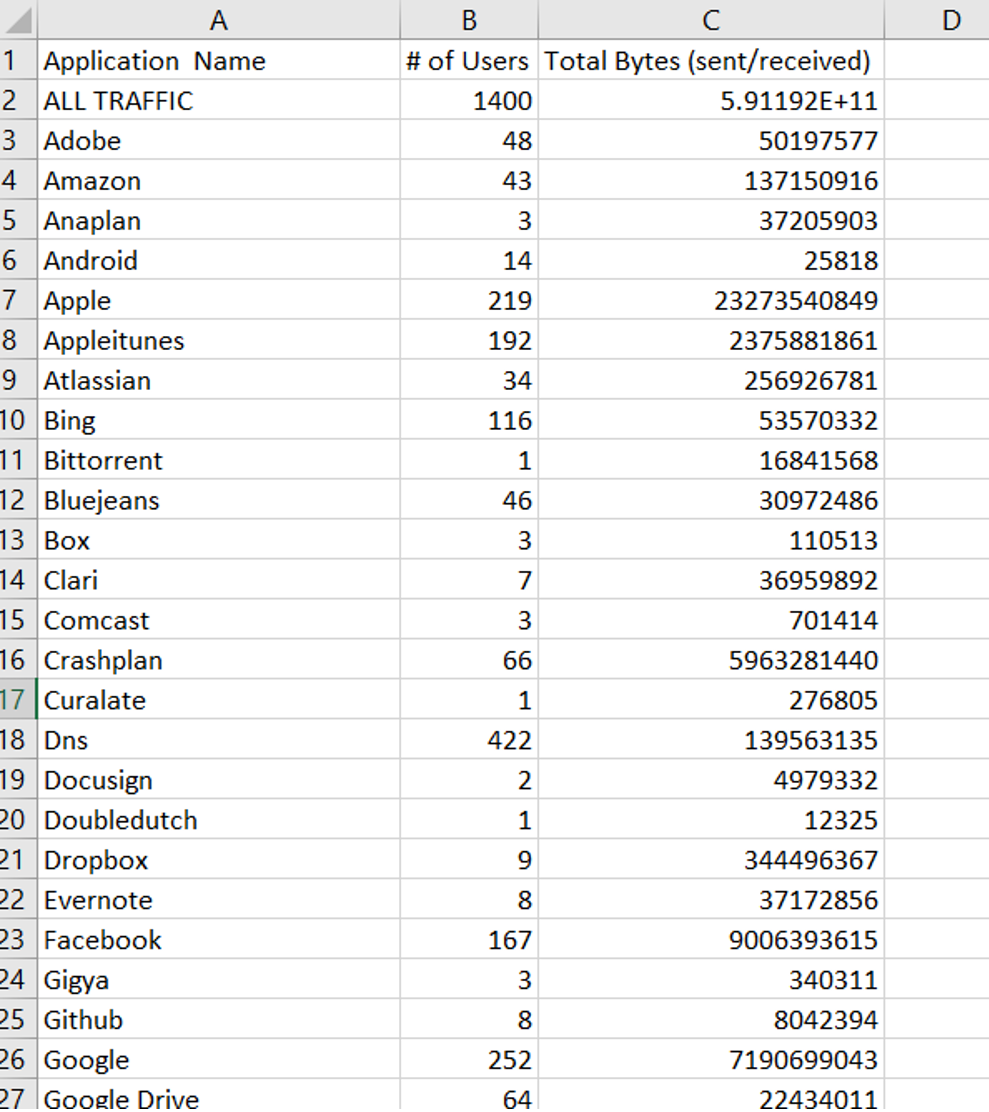 Designed with Security in Mind
ENI ensures that devices at the edge of distributed networks can access applications in the cloud with consistent performance and strong security. To do this, VMware Edge Network Intelligence collects data from a wide range of sources across your extended environment, including:
SD-WAN, including the ability to natively integrate with VMware SD-WAN™ gateways and hubs
The wireless and wired LAN, the first point of access for edge devices getting on the network
Network services like DHCP and DNS
Applications, via prebuilt integrations with Zoom, Citrix, Cisco Unified Communications Manager, and other critical applications
Access logs are maintained and monitored for unauthorized system access and an audit trail is provided.