Bring the cloud to your network
Commanding the Cloud
Modern businesses use cloud computing to increase agility and flexibility while reducing costs. But relying on the public internet to access the cloud comes with risks. How can you take advantage of the flexibility and efficiency of your cloud applications, without sacrificing the performance and security of a private network?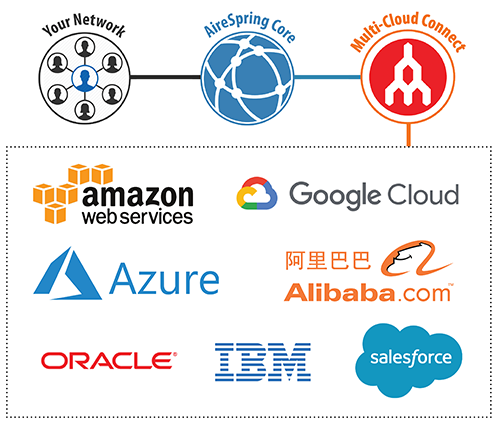 The answer is Multi-Cloud Connect, enabled by Megaport. Any AireSpring SD-WAN and MPLS circuit, as well as circuits utilizing AireSpring IP, can securely connect to your cloud
providers through AireSpring's service, enhancing the performance of your cloud applications.
Once connected, you can access leading cloud providers like Amazon Web Services, Microsoft Azure, and Google Cloud as if they were a node on your own private network.*
AireSpring's Unique Advantage
AireSpring customers enjoy a unique advantage with Multi-Cloud Connect. Since AireSpring's core network is already pre-integrated with leading cloud providers, AireSpring customers can access Multi-Cloud Connect without any additional circuit.
Multi-Cloud Connect allows for an enhanced, secure connection between your AireSpring SD-WAN, MPLS or AireSpring IP circuit and leading cloud providers.
BENEFITS
Connect to all your cloud resources from one single source, via a private network connection which enhances security.
Since AireSpring is pre-integrated with leading cloud providers, AireSpring SD-WAN and MPLS customers and customers utilizing AireSpring IP don't need additional equipment to access Multi-Cloud Connect.
* Multi-Cloud Connect does not cover or replace any connection fees charged by cloud providers, such as AWS, Azure, Google Cloud.
Top Benefits of the AireSpring Advantage
Fully Managed Network with QoS
Eliminate Finger Pointing Between Providers
Largest Available Coverage
On-Premises Enterprise-Grade Router/Gateway Included FREE
Reliable and Diversified Network
Free 24/7 Proactive WAN Network Monitoring Service
Personalized Service
Escalation List Up to Our CEO